Brigadier General Gouasmia Noureddine, Commander of the National Gendarmerie carried out, on March the 16
th
and 17
th
2021, a working and inspection visit to the two Non-Commissioned Officers schools of the National Gendarmerie of Sétif and Medaourouche and to the National Gendarmerie Training Center of Ain M'lila, to inquire about the progress of the training process. The visit is part of the special attention paid by the Command to the training of non-commissioned officers and troops of the National Gendarmerie, thus affirming the important role they play in the same way as the other institution categories of personnel, to meet current challenges with great professionalism in order to guarantee public safety and order.
On this occasion, Mr Brigadier General, Commander of the National Gendarmerie inquired about the various training courses provided by the two schools and the Training center where he followed application exercises and pilot course as well as presentations on the conduct of the training process in different military sciences and initiation to professional skills. He also inspected the educational infrastructure.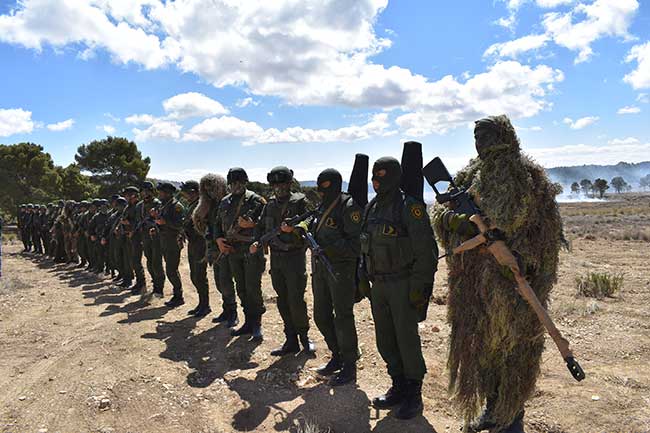 On the sidelines of this visit, the Brigadier General supervised on March 18
th
, 2021, the conduct of the final maneuvers of the training bivouac for the personnel of the Special Intervention Detachment located at Mount Ettaga (El Houijbet / Tebessa) and attended periodic training organized by the detachment to maintain the total availability of this elite unit of the National Gendarmerie. Mr. Brigadier General praised the high level of professionalism and mastery of special intervention techniques as well as the great competence acquired by the staff in the accomplishment of special operations and the fight against organized crime.