Mr Brigadier-General, Commander of the National Gendarmerie, presided over the opening of the national seminar on road safety under the slogan "THE REALITY OF ROAD SAFETY IN ALGERIA, PERSPECTIVES AND CHALLENGES", held at the headquarters of the National Gendarmerie Command on 25
th
May 2021. The seminar was attended by representatives of various organisations active in the field of road safety, university teachers from different faculties as well as National Gendarmerie executives.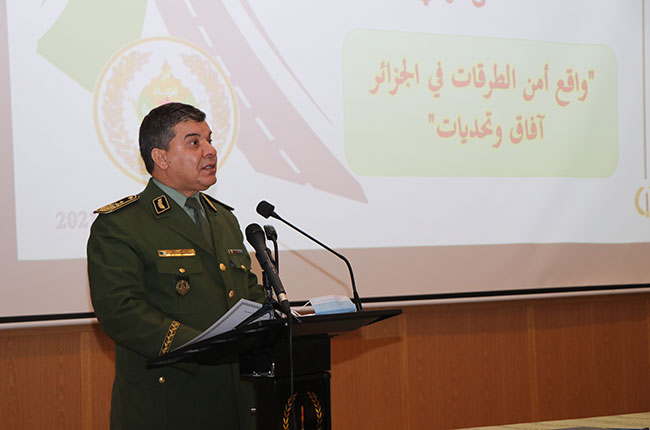 The seminar aims to :
-Strengthen the sense of road safety on the entire road network through the contribution of all bodies and sectors.
-Evaluate the effective implementation of the proposed solutions, particularly in terms of reinforcing the legal framework and taking charge of the material and technical aspects with a view to the effective application of the relevant legal texts.
-Identify the shortcomings that are at the root of road insecurity despite all the efforts made.
-Formulate proposals and measures to be adopted to limit the dangers of road accidents.
This seminar will also enable the design of future action plans for each body, the common denominator of which is the complementarity of the missions and actions outlined and carried out according to the speciality of each.
The interventions of the representatives of the different bodies, university teachers and executives of the National Gendarmerie, followed by the debates led by those present, resulted in a series of recommendations to promote road safety throughout the road network.