Lieutenant General Saïd CHANEGRIHA, Chief of Staff of the People's National Army carried out, on Wednesday , August 11th, 2021, alongside Major General Ali SIDANE, 1st Military Region's Commander, and Major General Noureddine HAMBLI, 5th Military Region's Commander, a field visit to the military detachments that took part in the fire fighting operations, belonging to the 8th Light Infantry Battalion, located in Fréha , wilaya of Tizi-Ouzou - 1st Military Region, and the 4th Light Infantry Battalion, located in Adekkar, wilaya of Béjaïa - 5th Military Region.
During this visit, the Lieutenant General inquired about the evolution of the events on the ground, and the efforts made by the detachments of the People's National Army to control the fires, rescue the citizens and help and assist the affected regions. These fires resulted in the death of 28 brave soldiers and injured 14 others with more or less serious burns.
On this occasion, the Lieutenant General observed a minute of silence in memory of the martyrs of the national duty, before addressing the personnel of these units, in an encouraging speech, through which he valued the heroic work of all the mobilized soldiers, as he conveyed to the personnel participating in this humanitarian operation the warm congratulations and recognition of the President of the Republic, Supreme Chief of the Armed Forces, Minister of National Defence
He also renewed his condolences to the colleagues, families and relatives of the Chouhada of duty, who did not hesitate to sacrifice their lives to save those of their fellow citizens, wishing a speedy recovery to the wounded and urging all to continue their mission and honour their noble humanitarian duty.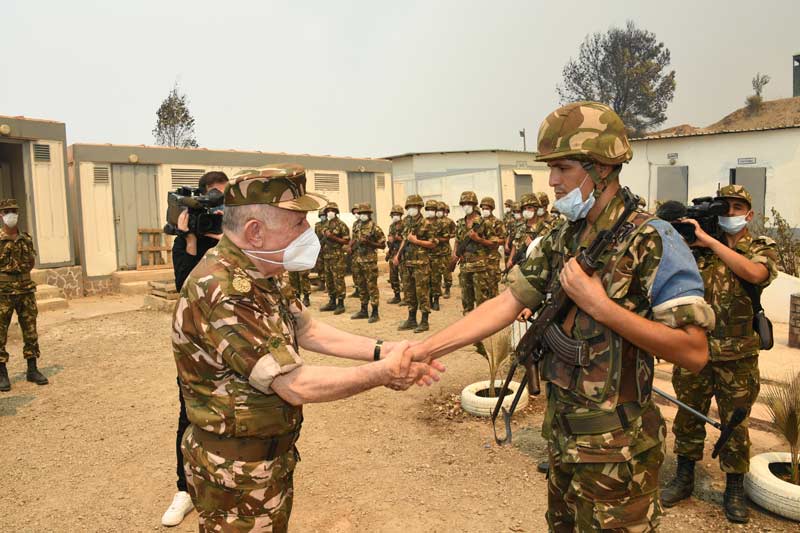 By the end of the meeting, the Lieutenant General inspected the operational set-up of these units and asked about their living conditions, before giving the personnel a set of guidelines.