Lieutenant General Said CHANEGRIHA, Chief of Staff of the People's National Army, attended this morning August 14th, 2021, at the Army Central Hospital - Aïn Naâdja, the funeral procession and recollection in memory of the chouhada, who died during the latest forest fire-fighting operations in the wilayas of Tizi-Ouzou and Bejaïa, before the transfer of their remains to their regions of origin through the different wilayas, where they will be buried with military honours.
Following this sad ordeal that struck our Nation and caused the loss of its best during the fight against these arsons, the Lieutenant General reiterated his deep compassion and solidarity with the families of the victims and shared their pain and sorrow, expressing his sincere condolences. He also uttered his thanks and appreciation for the solidarity and compassion shown by the Algerian people.
In his speech, the Director of Communication, Information and Orientation of the General Staff of the People's National Army indicated that "These heroes who sacrificed their souls for the homeland and saved their fellow citizens from these criminal fires that occurred in various regions of our country, from the crimes against humanity and nature, where the enemies of the nation tried to feed hatred, They were confronted with honourable and dignified men, soldiers, who faced the fires from all sides, resisted and fought them with determination and bravery, and succeeded in defeating all the odious plans that target Algeria, land and people, and gave an excellent image of solidarity, cohesion, loyalty and sacrifice"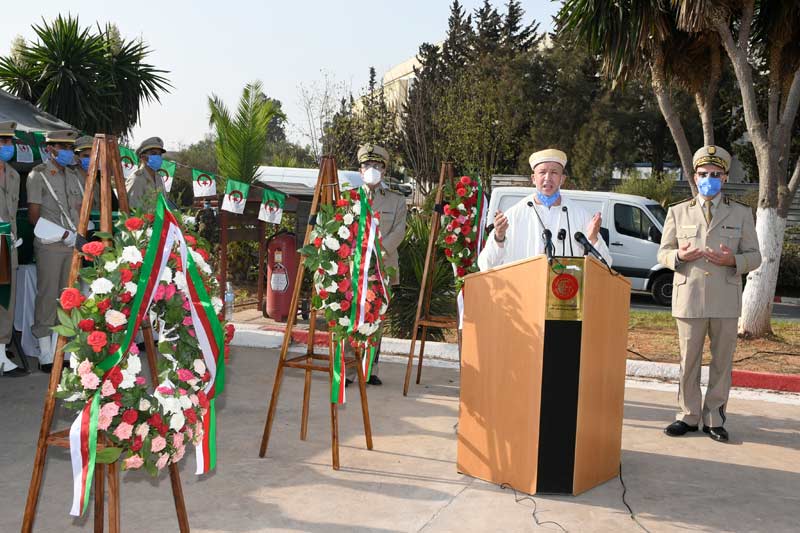 It should be noted that the farewell ceremony concerned 26 martyrs at the Army Central Hospital - Aïn Naâdja, the same farewell was held for the other 07 martyrs at the Army Regional Hospital in Constantine - 5th Military Region.