Within the framework of the noble missions of defence and security of the national territory against all forms of threats, detachments and units of People's National Army carried out, from 28th July to 3rd August 2021, numerous operations which witness the infallible commitment of our Armed Forces to preserve peace and security in our country:
Within the framework of the fight against terrorism, a detachment of People's National Army apprehended the terrorist named "B. Ben Mohamed" alias "Abdelmalek" at the level of the Operational Sector of Bordj Badji Mokhtar/6th MR. The said terrorist who had joined, in 2017, the terrorist groups activating in the Sahel region, was in possession of one (01) submachine gun type Kalashnikov and (03) magazines charged with ammunition.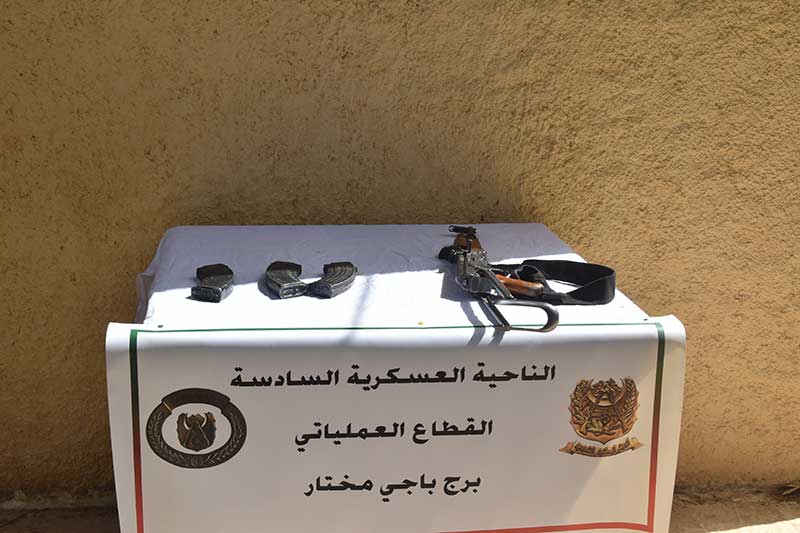 In the same context, a combined detachment of People's National Army discovered, during a search operation in the commune of Douar El-Ma, wilaya of El-Oued, a cache containing (40) propellant charges for artillery shells, (1,957) bullets of various calibres, (408) detonators for mines and grenades, as well as a set of parts, magazines and ammunition chains for various weapons and means of connection.
Within the framework of the fight against organized crime and within the dynamics of intense efforts to thwart drug trafficking scourge in our country, combined detachments of People's National Army arrested, in coordination with the various security services at the level the 2nd and 3rd Military Regions, (07) drug traffickers and seized (203) kilograms of treated kif that the criminal gangs tried to introduce across the borders with Morocco, while (15) other drug traffickers were arrested and (10) kilograms of the same substance as well as (6,450) psychotropic tablets were seized, in various operations carried out across the Military Regions.
In another context, detachments of PNA intercepted, in Tamanrasset, In Guezzam, Bordj Badji Mokhtar and Djanet, (126) individuals and seized one (01) submachine gun type Kalashnikov, one (01) loaded charger, (33) vehicles, (12) generator sets, (17) jackhammers, (26) tonnes of raw gold and stones mixture as well as explosives, detonation tools and other equipment used in illicit gold mining operations, while (07) hunting rifles, (48) tons of copper waste and (15,000) packages of tobacco were seized during separate operations carried out in Ghardaia, In Amenas, Tizi Ouzou and Tipaza. Likewise, smuggle attempts of quantities of fuel amounting to (7,500) litres were foiled in Tebessa, El-Tarf, Souk Ahras, Tindouf and Bordj Badji Mokhtar.
In addition, Coast Guards thwarted illegal emigration attempts of (128) individuals aboard homemade boat in Oran, El Kala, Annaba, Skikda and Chlef, while (44) illegal immigrants from different nationalities were arrested in Tlemcen, Ghardaia, Tindouf and Djanet.
Operation
Events
Report
Fight against terrorism
Arrested terrorists
01
Seizure of submachine gun type Kalashnikov
02
Seizure propellant charges for artillery shells
40
Seizure of ammunitions of different calibre (ballets)
2,047
Seizure of Mine detonators and grenades
408
Sécurisation des frontières et lutte contre la contrebande et le crime organisé
Arrest of drug traffickers
22
Seizure of treated kif (kg)
213
Seizure of psychotropic tablets
6,450
Arrest of people (within smuggling and illegal gold mining)
126
Seizure of hunting rifles
07
Seizure of generator sets
12
Seizure of jackhammers
17
Seizure of raw gold and stones mixture (tonne)
26
Seizure of tobacco (packet)
15,000
Seizure of cooper wastes (tonne)
48
Seizure of vehicles
33
Seizure of fuel (litre)
7,500
Lutte contre l'immigration clandestine
Arrest of illegal emigrants on board artisanal boat
128
Arrest of illegal immigrants from different nationalities
44