Within the framework of the noble missions of defence and security of the national territory against all forms of threats, detachments and units of People's National Army carried out, from the 04th to the 11th of August 2021, numerous operations that testify on the infallible commitment of our Armed Forces to preserve peace and security in our country:
Within the framework of the fight against organized crime and the dynamics of intense efforts to thwart the scourge of drug trafficking in our country, combined detachments of the People's National Army have arrested, in coordination with the various security services of the 2nd and 3rd Military Regions, (09) drug traffickers and seized (09) quintals and (55) kilograms of treated kif that the criminal gangs tried to introduce across the borders with Morocco, while (19) drug traffickers were arrested and (18) kilograms of the same substance as well as (42,295) psychotropic tablets were seized, in various operations carried out across the various Military Regions.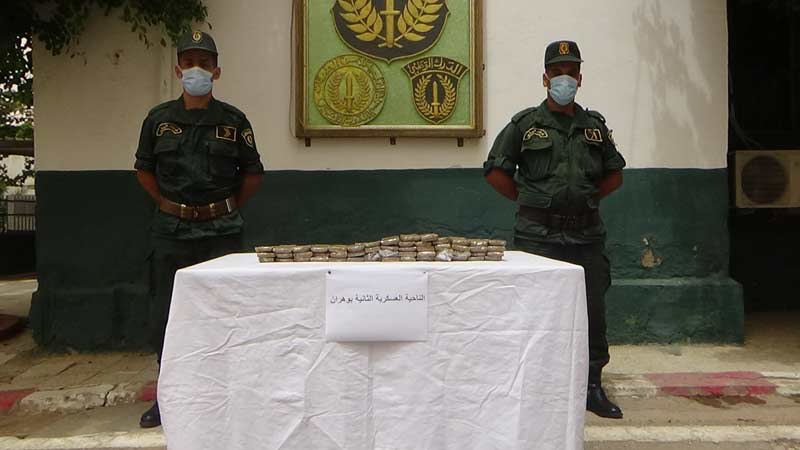 In another context, PNA detachments intercepted, in Tamanrasset, In Guezzam, Bordj Badji Mokhtar, Djanet and Tindouf, (82) individuals and seized (17) vehicles, (86) generators, (45) jackhammers , (19) metal detectors, (16) tonnes of mixed stones and raw gold, as well as quantities of explosives, detonation tools and other equipment used in illicit gold mining operations, as well as (38130) packets of tobacco and (3568) units of various drinks were seized during operations launched in Biskra, El-Oued and In Amenas. Likewise, attempts to smuggle quantities of fuel amounting to (11,798) liters were foiled in Tébessa, El-Tarf, Souk Ahras and Bordj Badji Mokhtar.
In addition, the Coast Guard thwarted, along the national coasts, attempts at illegal emigration of (376) individuals aboard craft-built boats, while (62) illegal immigrants of different nationalities were arrested in In Guezzam, Tlemcen, Ghardaïa and Souk Ahras.
Operation
Events
Report
Borders security and fight against smuggling and organized crime
Arrest of drug traffickers
28
Seizure of treated kif (kg)
973
Seizure of psychotropic tabletsSeizure of psychotropic tabletsSeizure of psychotropic tablets/td>
42295
Arrest of people (within smuggling and illegal gold mining)
82
Seizure of generator sets Seizure of generator sets Seizure of generator sets
86
Seizure of Metal detectors
19
Seizure of jackhammers
45
Seizure of raw gold and stones mixture(tonne)
16
Seizure of tobacco (packet)
38130
Seizure of various drinks (units)
3568
Seizure of vehicles
17
Seizure of fuel (litre)
11798
Fight against illegal immigration
Arrest of illegal emigrants on board artisanal boat
376
Arrest of illegal immigrants from different nationalities
62