Within the framework of the implementation of the scientific activities program for the year 2020-2021, the Military Institute of Documentation, Evaluation and Prospective of the Ministry of National Defence organised, on Sunday 21st March 2021, at the National Army Circle in Beni Messous, a colloquium entitled "The aftermath of COVID-19: towards a geopolitical reconfiguration?".
The proceedings of this seminar, opened by Major General Mohamed Kaïdi, Head of the Employment-Preparation Department of the General Staff of the People's National Army, were attended by executives of the PNA, university researchers and representatives of training structures of the Ministry of National Defence, with the presence of the accredited Military attachés in the country.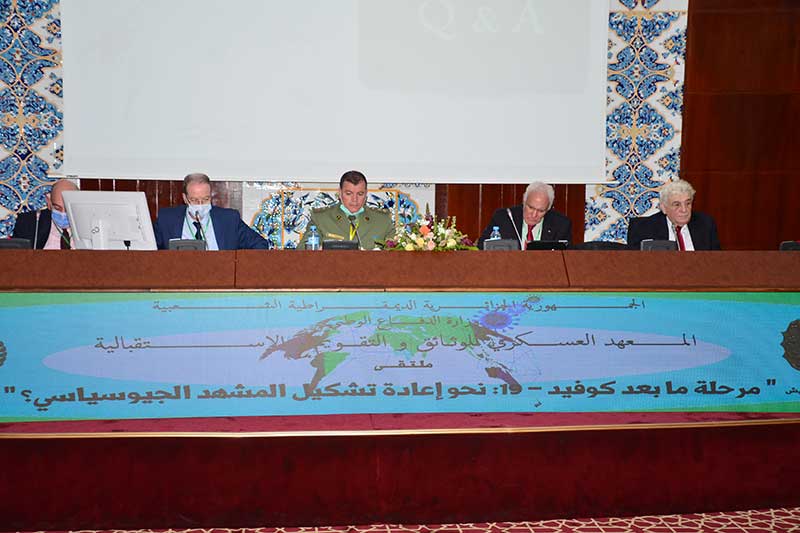 In his opening speech, the Major General stressed on the fact that "the organisation of this seminar is an opportunity to shed the light on the different aspects of the pandemic and its impacts on international relations in different sectors, knowing the exceptional circumstances that have marked, and still affect today, our country as well as the entire world".
During this scientific event, several speeches were given by experts and professors from the health, political and economic sectors, focusing on the various dimensions of the pandemic, especially those related to the reconfiguration of the international and regional geopolitical and geo-economic landscape post-COVID-19, and the geopolitical and economic changes created by the pandemic, and reflecting on the measures to be taken in order to adapt to the post COVID-19 situation.