Within the dynamics of the efforts aiming to establish security and serenity throughout the national territory, units and detachments of People's National Army carried out, during the period from 17th to 23rd March 2021, several operations, which denote the high professionalism and unwavering commitment of our Armed Forces to preserve and to protect our country against all forms of security threats and related scourges:
Within the framework of the fight against organized crime and as a continuation of the intense efforts to eradicate the drug trafficking scourge in our country, combined detachments of PNA intercepted, in coordination with the various security services in numerous operations executed through the various Military Regions, (20) drug traffickers and seized large quantities of treated kif amounting to (09) quintals and (84) kilograms, that the criminal gangs attempted to introduce across the borders with Morocco .
As such, detachments of PNA and the services of the National Gendarmerie and the Border Guards arrested, during separate operations in the territories of the 2nd and 3rd Military Regions, (08) drug traffickers and seized (09) quintals and (44) kilograms of treated kif, while (12) drug traffickers were apprehended and (40) kilograms of the same substance, as well as (36443) psychotropic tablets were seized in various operations carried out in other Military Regions.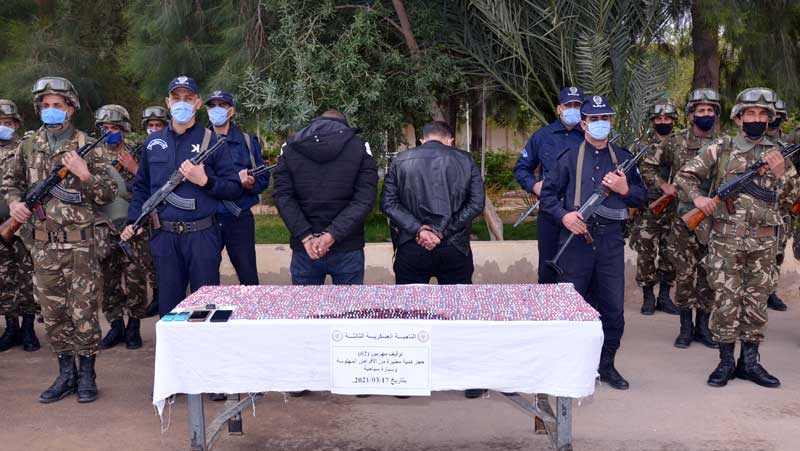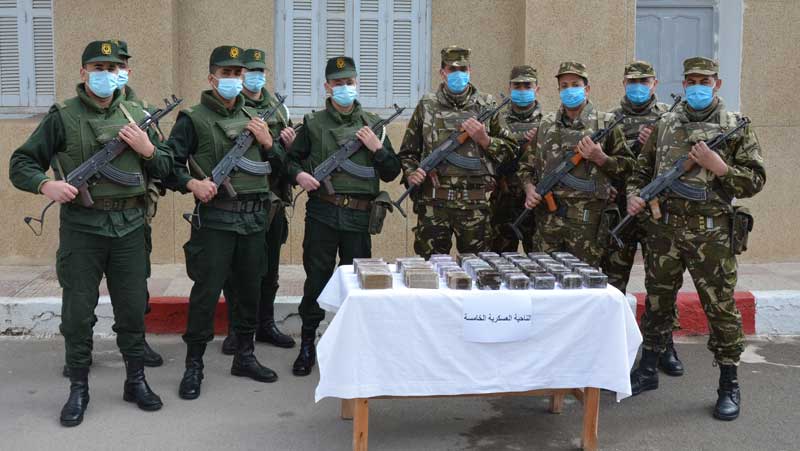 In another context, detachments of PNA intercepted, in Tamanrasset, In Guezzam, Bordj Badji Mokhtar and Djanet, (1203) individuals and seized (07) vehicles, (253) generators, (83) jackhammers, detonation tools and other equipment used in illicit gold mining operations, as well as (52.7) tonnes of stones and raw gold mixture and (1,470) tonnes of foodstuffs, while (24) other individuals were arrested, and (80) hunting rifles, (01) automatic pistol, (226794) hunting rifle cartridges, (23,820) tons of copper, (2241) smart phones, (155001) tobacco units, (33120) units pyrotechnic articles and (7398) units of different drinks were seized during separate operations carried out in Tiaret, Aïn Témouchent, Ouargla, El-Oued, Biskra, In Amenas, Sétif, Mila and Djelfa.
In addition, to smuggle attempts of large quantities of fuel amounting to (9996) litres were thwarted in Tébessa, El-Tarf, Souk Ahras and Bordj Badji Mokhtar, while (363) illegal immigrants from different nationalities were apprehended in Tamanrasset, Djanet, Tlemcen, El Oued and Adrar.
Operation
Events
Report
Borders security and fight against smuggling and organized crime
Arrest of drug traffickers
20
Seizure of treated kif (kg)
984
Seizure of psychotropic tablets
36443
Arrest of people (within smuggling and illegal gold mining )
1227
Seizure of fire guns
81
Seizure of hunting rifle cartridges
226794
Seizure of jackhammers
83
Seizure of generator sets
253
Seizure of cooper (tonne)
23,820
Seizure of tobacco (units)
155001
Stones and raw gold mixture (bags)
52,7
Seizure of vehicles
07
Seizure of fuel (litre)
9996
Seizure of pyrotechnic items (unit)
33120
Seizure of smart phones
2241
Seizure of foodstuff (tonne)
1,470
Seizure of drinks (unit)
7398
Fight against illegal immigration
Arrest of illegal immigrants from different nationalities
363