On the first day of his official visit to the Serbian Republic, Lieutenant General Said CHANEGRIHA, Chief of Staff of the People's National Army, met with Mr. Nebojŝa STEFANOVIĆ, Serbian Minister of Defence.
Lieutenant General expressed then his deep gratitude for the honour reserved to him and to his accompanying delegation at his arrival to Serbia, he also thanked the Serbian partner for the invitation extended to Algeria to take part to the 10th Edition of the International Armament Exhibition "Partner-2021".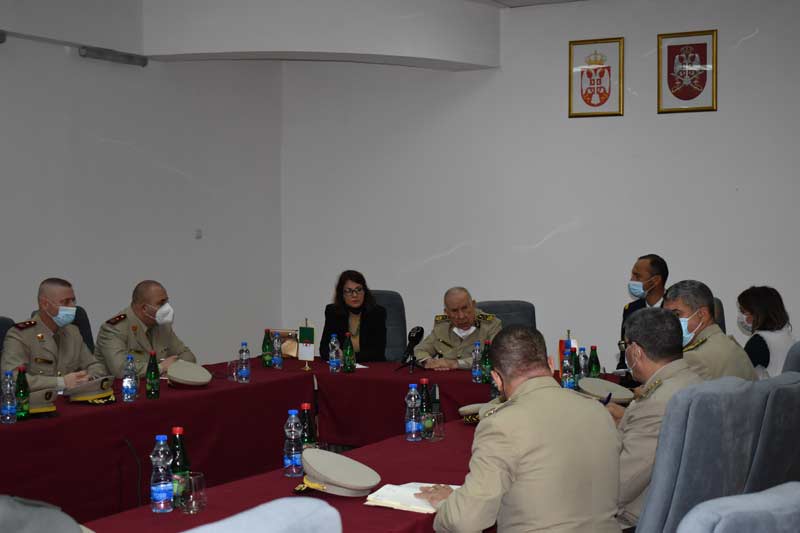 The Lieutenant General mentioned the encouraging steps already crossed, by the Algerian-Serbian military cooperation relations, and the shared ambition to promote them further, which predicts a promising future for the military cooperation between the two countries' armed forces and the prospects of its development in various fields.
At the end of his visit, the Lieutenant General headed to the Officers Engineering Military Academy, where he received a comprehensive briefing on this training centre and on the teaching methods adopted by its staff, before holding a meeting with the Algerian officer trainees in the Academy, praising the spirit of commitment shown by their supervisors, and stressing on the fact that the reputation acquired by our People's National Army comes from its large experience and the professionalism of its personnel. He also stressed on the fact that they needed to take advantage of the theoretical and practical knowledge provided at the academy in order to develop their skills for future missions.