On the second day of his official visit to the Serbian Republic, Lieutenant General CHANEGRIHA Said, Chief of Staff of the People's National Army, was received today, 12th October 2021, by the President of the Serbian Republic, Mr. Alexandar VUČIĆ, to whom he handed over a handwritten letter from Mr. Abdelmadjid TEBBOUNE, President of the Republic, Supreme Chief of the Armed Forces, Minister of National Defence, with his greetings to him and to the friendly Serbian people.
Were present at the event both sides, the Algerian ambassador in Belgrade and the Algerian military delegation, from one hand, as well as the Serbian Minister of Defence, the Serbian Chief of Staff of the Armed Forces, the Serbian ambassador in Algiers and the CEO of the "Yugoimport" company from the other hand. On this occasion, the Lieutenant General, discussed the Algerian-Serbian cooperation relations that goes back to the fifties, at the time of the Glorious Revolution of Liberation, by underlining on the fact that this heritage was consolidated after the independence, thanks to multiform exchanges and close diplomatic cooperation, particularly within the framework of the Non-Aligned countries Movement, which included, among other leaders, the late Presidents Houari BOUMEDIENE and Josip Broz TITO, who worked together genuinely in order to meet the challenges of this important historical era.
The Lieutenant General also met with the Chief of Staff of the Serbian Armed Forces, General Milan MOJSILOVIĆ, with the presence of the Algerian military delegation and senior Serbian army officers. The discussions focused mainly on the various areas of partnership and military cooperation between the armies of the two friendly countries.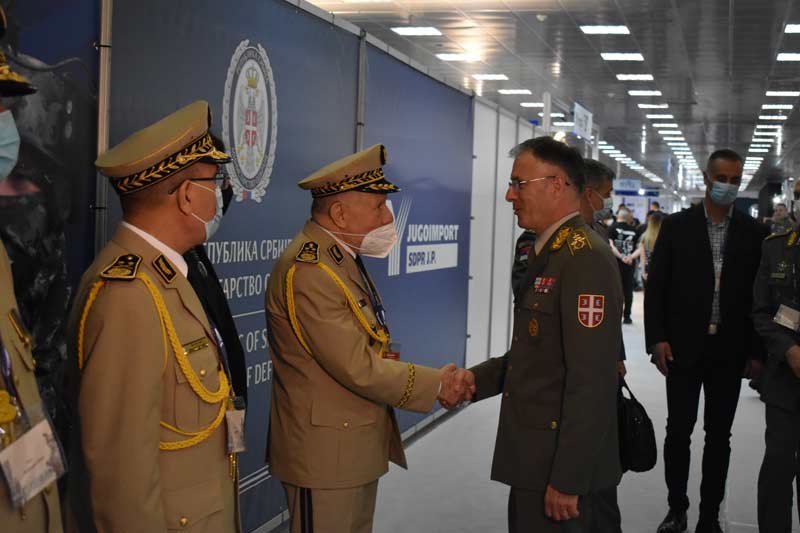 Moreover, this morning, the Lieutenant General attended the official opening ceremony of the 10th edition of the International Armament Exhibition "Partner-2021", presided by Mr. Alexandar VUČIĆ, President of the Serbian Republic.
After the opening ceremony, the Lieutenant General accompanied by his delegation, visited the exhibition stands, where he had a closer look to the various modern armaments and weapons' systems on display. He received exhaustive explanations and attended presentations given by representatives of the producing companies.