Within the framework of the noble missions of defence and security of the national territory against all forms of threats, detachments and units of People's National Army carried out, from 13th to 19th October 2021, multiple operations which testify the infallible commitment of our Armed Forces to preserve peace and security in our country:
In the field of the fight against terrorism, combined detachments of People's National Army apprehended (04) elements of support for terrorist groups in separate operations across the national territory, while two (02) casemates for terrorists were discovered and destroyed in Skikda as well as (05) homemade bombs in Boumerdès and Médéa.
Within the context of the operations to fight organized crime and within the dynamics of intense efforts to thwart drug trafficking scourge in our country, combined detachments of People's National Army have intercepted, in coordination with the various security services at level of the territories of the 2nd and 3rd Military Regions, (09) drug traffickers and failed attempts to introduce quantities of drugs via the borders with Morocco, amounting to (889) kilograms of treated kif, while (34) other drug traffickers were arrested in their possession (49) kilograms of the same substance and (223956) psychotropic tablets seized in various operations carried out across the other Military Regions.
In addition, detachments of People's National Army apprehended, in Tamanrasset, In Guezzam, Bordj Badji Mokhtar, Djanet and Tindouf, (413) individuals and seized (26) vehicles, (241) generators, (122) jackhammers, quantities of explosives, detonation tools and other equipment used in illegal gold mining operations, as well as (15) tonnes of raw gold and stones mixture, while (26) other individuals were arrested, (09) hunting rifles and (02) automatic pistols, (717305) units of pyrotechnic items and (89.5) quintals of tobacco were seized in El-Oued, Biskra, Ouargla, In Amenas and Batna. Likewise, smuggle attempts of quantities of fuel amounting to (71150) litres were foiled in Bordj Badji Mokhtar, Tébessa, El-Tarf and Souk Ahras.
In another context, Coast Guards thwarted, at the level of our national coasts, illegal emigration attempts and proceeded to the rescue of (701) individuals aboard artisanal boats, while (118) illegal immigrants from different nationalities were arrested in In Amenas, Tlemcen, Aïn Temouchent and Ghardaïa.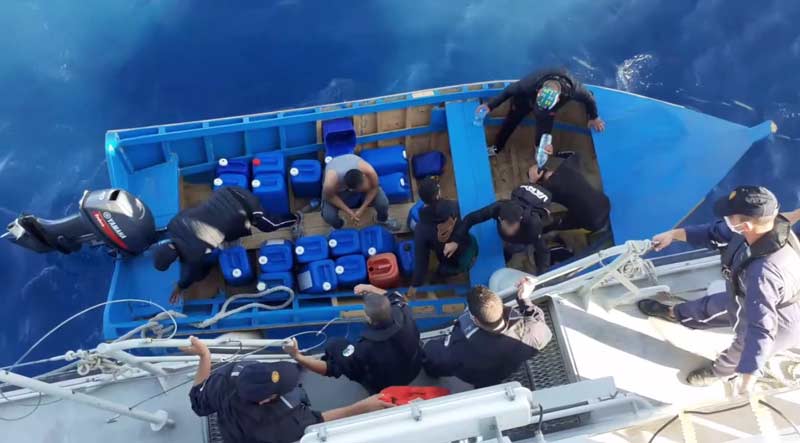 Operation
Events
Report
Fight against terrorism
Elements of support for terrorist groups
04
Destruction of casemates for terrorists
02
Destruction of handmade bombs
05
Borders security and fight against smuggling and organized crime
Arrest of drug traffickers
43
Seizure treated kif (kg)
938
Seizure of psychotropic tablets
223956
Arrest of people (within smuggling and illegal gold mining operations)
439
Seizure of generator sets
241
Seizure of jackhammers
122
Seizure of raw gold and stones mixture (tonne)
15
Seizure of fire guns
11
Seizure of pyrotechnical items (unit)
717305
Seizure of vehicles
26
Seizure of fuel (litre)
71150
Seizure of quantities of tobacco (quintals)
89,5
LFight against illegal immigration
Arrest of illegal emigrants on board artisanal boat
701
Arrest of illegal immigrants from different nationalities
118