National School of Military Health

Historical overview of the school:

The National School of Military Health is a training institution under the authority of the Ministry of National Defense and under the pedagogical tutelage The Ministry of Higher Education and Scientific Research.

This institution was inaugurated on June 22nd , 1987, in Ain Naadja at the 1st Military Region, within the framework of reorganization and activity transfer of the National People's Army located in the Central Hospital for Training of Bab El Oued since November 11th ,1965.

On April 16th , 2015, the school was named after the martyr KADDI BAKIR.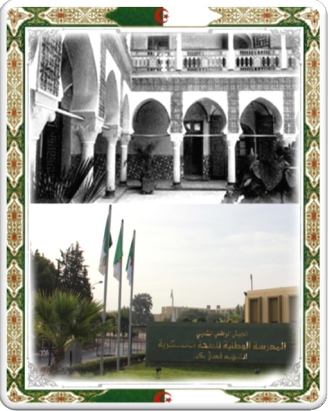 Living environment within the school:

In addition to the modern pedagogical equipements (study rooms, physics and chemistry laboratory, language laboratory, simulation systems, electronic educational platform…). The school benefits from housing, entertainment and sport facilities (housing, lounges, dining, Cybercafe , multidisciplinary sports complex, semi-olympic indoor swimming pool and two equiped body building clubs …), the students also benefit during their studies from a progressif pre salary and laptops.
Missions of the school:
The school offers military and military medicine trainings, together with graduate and specialized medical studies, as follows:
Graduation study (Doctorate) in medicine (08 years), dental medecine and pharmacy (07 years).
Long-term post-graduation study « internship » in medical and surgical, dental surgery and pharmacy specialities (for 04 to 05 years) to obtain a DEMS (Diploma in Specialized Medical Studies).
Short-term post-graduation study (for 18 to 24 months), to obtain a CES (Certificate of specialized Studies) in medical sciences.
The school also offers temporarily, a professional bachelor training in paramedical (BMD in 04 years).
Address: BP 246 KOUBA ALGER
Tel: 021 54 53 82
Fax: 021 54 54 31
E-mail: