Web site Internet TARIKI of the National Gendarmerie about the traffic information
Within the context of reinforcement of proximity actions towards citizens and especially road users, the National Gendarmerie Command sets up the website «www.tariki.dz» in order to furnish different information necessary to prevention and roads security.
home Page of the web site Internet Tariki
On November 3
rd
2017, a mobile application of the site was launched, disponible on Play Store of Google, in Arabic and french languages, in order to be accessible for a big number of users and to collect their remarks and suggestions. This application offers also navigation and assistance functionalities to localize the users with GPS coordinates.
The mobile App "TARIKI" is available on Google Play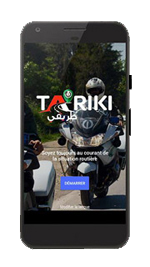 Traffic information Facebook page « Tariki»
On April 29th, 2019, a road information page of the National Gendarmerie called "Tariki" was launched on the social network facebook, it aims to:
Display information about the state of the raods and weather conditons.
Put in place an additional communication channel to access road information and put it at the service of the citizen.
To participate citizens on the protection and the security road by expending information about road's situation.